Everything is freshly made in my restaurant. And it's all about comfort food – my own family favourites based on Persian, Indian, Israeli and Palestinian cuisine.
As well as strictly vegetarian, many of my dishes are also Gluten-free, Keto and Vegan.
See my gallery, below.
In the foreground is my mum's recipe Paneer Curry and in the background my medjool date, toasted almond and spinach salad. Tzatziki in between the two. If you need a visual representation of comfort food that will make you feel happy inside. Here it is!
I live and breathe aubergines. My favourite vegetable. My favourite food. And I have to stop myself from using it in everything I make.
One of my lunchtime dishes of paneer curry, Persian style yoghurt with walnuts and raisins and, my family favourite, Tahdig, which is the delicious, saffron fragranced, crispy base of Persian rice. Heaven on a plate.
Roasted sweet potato served in a tomato cardamom and lime sauce with chili and garlic. This is a full flavoured vegan dish which my family loves.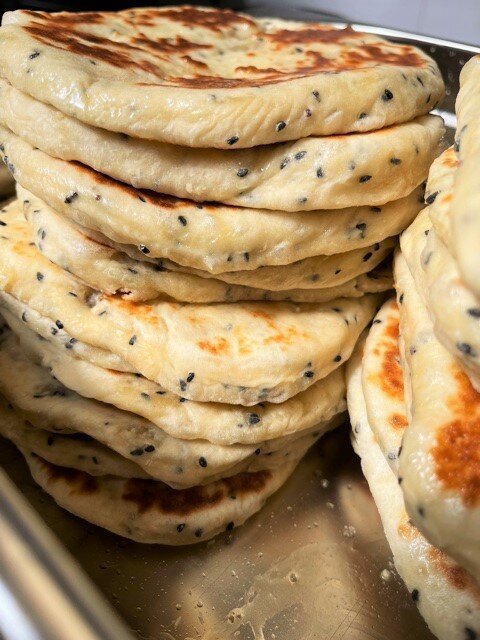 I make my own fresh naans including Peshwari naan stuffed with almonds, raisins and coconut. I'm lying, my husband makes them while I shout instructions.
Bulgur wheat kefte's with home made humus and muhammara – which is made with pounded roast red pepper, toasted walnuts, garlic and more. A real discovery. An amazing combination you have to try.
What can I say… simply the most delicious chocolate brownies. Soft, moist, indulgent, and don't eat them all at once.
Tahini and halva brownies are another discovery. And in the background my baked blueberry cheesecake. I'm not going to tell you how delicious they are, come and try for yourself.
My humus (center) with muhammara on top, is home made. And the chickpeas don't come out of a tin so you can taste the difference. To be tasted with my cheesepuffs on either side. My juices are all fresh too. In this case Carrot, apple ginger and lemon juice.
This is the classic Indian Chaat which originated from Uttar Pradesh. Caramelised sweetcorn with a blend of spices topped with finely chopped red onions, coriander and chickpea noodles. On a bed of yoghurt.
I bake my own za'atar focaccia because it's so much better than anything I could buy from a shop. I use the same dough for my Persian pizzas.
These are my vegan brownies made with Mejdool dates and pecan nuts as the main ingredients. My husband prefers them to my other brownies. Silky smooth and rich.
These are my onion bhajis. A good bhaji is light, crispy and has a spicy bite. These are oven baked and not deep fried.
I even experimented with home made poppadom. They were an instant success. Light, crunchy and delicious with dips such as my home cooked humus.
I don't buy in spice mixes, I make them. Under the red chilli is my mum's mum's Garam Masala recipe . I bought an industrial grinder just for preparing this mix and it's my husband who operates the lethal looking device. I watch.
Paneer tikka (marinated in spices and yoghurt) with roasted vegetables on top. A family favourite.
This is an iconic Persian rice dish called, Tahchin. It's baked with yoghurt, egg yolks and saffron to create a delicious rice cake. Layered with roast aubergines and topped with caramelised barberries.
This comfort lunch bowl is made up of a Persian style Biriyani dish with potatoes, green beans and that delicious crispy rice taken from the bottom of the tray. I garnished it with carrot chutney, coriander and toasted almonds.
Pea fritters. An unexpectedly delicious mix of peas, herbs, feta cheese and spring onions.
We started to experiment with a one pot comfort bowl for lunch. You can see that to stop the curry sauce seeping into the rice, we have spooned it into a roast pepper container. The experiment has worked so far – we sold out on day one!
Baked aubergine rolls filled with a mix of fresh herbs, goats cheese and walnuts. These are served at room temperature and delicious as a snack or a starter. The great news is they are also very low carb. Perfect for my husband.
Garlic, onions, ginger and turmeric on the left and Garam Masala on the right. The base for most curry's. Oh and I add fresh chilli later. The Garam Masala though… that's my mum's own mix, passed down the family for generations. It tastes so much better than anything you can buy in a supermarket.
This is our favourite champagne. My husband and I make a day of it every few months when we drive down to Hautvillers, in the Champagne region of France, to collect more cases. We like it served ice cold.
A slice of my husband's favourite cheesecake – the Persian Love Cheesecake. Can you see the edible rose petals and pistachios that top this dessert? The hints of home (Iran) include rosewater and cardamom. The sad thing is that my husband can no longer eat this, his favourite dessert. Because he's been on a keto/low carb diet for the last 18 months and managed to lose 30kg in the process.
Customers, having tried my cheesecake, will often call to order the whole thing for parties and gatherings. Also, I don't like to make my desserts too sweet – the sugar content shouldn't cancel out the other flavours. And baked cheesecakes are my thing – my specialty. You need to try them.
A favourite summer salad with feta, fresh mint, red onions and watermelon. This is a heavenly, refreshing mix of tastes and textures. And not just for summer.
Apricot, roast vegetable and chickpeas all cooked separately and assembled at the very end to retain their individual flavours. Packed with cinnamon, coriander and cumin to transport you to North Africa! A family favourite I discovered in a restaurant in Somerset, UK many years ago. And happy the chef shared her recipe with me.
Indian style scrambled eggs for Brunch anyone? Fresh flavours, herbs and eggs are key. But so is texture, which is why the scrambled egg sits in a poppadom basket. All round delicious and I have yet to see anything but polished off plates for breakfast.
Another curry base. See the green chilli's in the middle? We don't use powdered versions because you can really taste the difference.
Stuffed paratha. In India we call it Aloo Paratha – aloo meaning potato, which we spice, is what the flatbread is stuffed with. Comfort food because this is what I was raised on. You couldn't have a meal without using it to mop up any remaining sauce on your plate.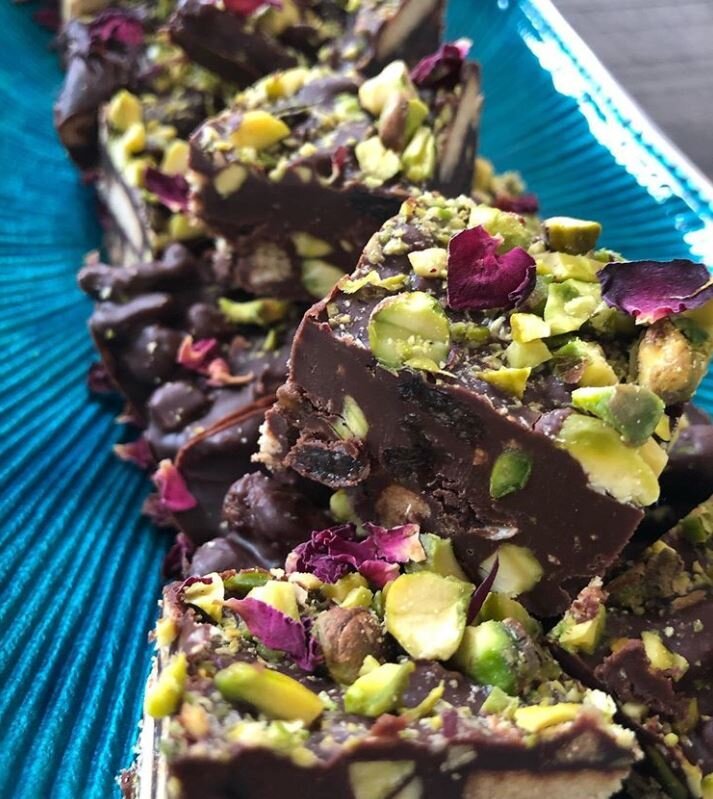 Mint and pistachio chocolate fridge cake. This is fresh, beautiful textured and must be tasted to appreciate the explosion of flavours. My family love these and it's hard to not keep taking pieces out of the fridge.
Israeli street food – Sabih! On the spoon a dollop of Zhoug, a spicy Yemeni Jewish fresh herb paste. It's fragrant but it has bite and wonderful with poached eggs, salad and pitta bread – which we bake ourselves!
Here is a shot I took of a Sunday Brunch for a table of 5. Note when you come to eat at my place there are no choices of different dishes to choose from. Every lunch is a new, freshly made selection of mains and desserts. And everything is brought to the table. What you can't eat, we give you a box so you can take it home.
Food with Varinder is my home from home, which includes decor and family pictures. And each picture tells a story.
There are no shortcuts to freshly ground spices. A blender will create too much heat and change the taste.
Lemon zesting isn't easy but I seem to use it in many of my dishes.
I'm proud to say that I decorated the restaurant all by myself and would not allow any input from family or friends – my husband included. If it was down to him Food with Varinder would have looked like a fast food joint.
This was a free school for the children of deprived families in India. The teachers didn't want money, they asked us instead to go to a local store and buy each student pencils, paper and rulers. Which cost almost nothing. You can see my daughter on the far left and twin boys at the back, left.
We love our Samavars. And here is one my husband picked up recently. Did you know the metal has gold in it to stop it turning green over time? It's Russian and still works! But I would need one that's around 5 times this size for it to be useful in the cafe.
Lighting = mood = ambience
The skylight above the kitchen is a wonderful source of natural light as well as making me feel like I am standing in the rain when there's a storm.
One of our many Samovars (Russian tea urn). My husband collects these and although we don't use one in the cafe, Persian cardamom tea and Indian masala tea are our specialties. We do, of course, serve all types of coffee too.
I often look up to find customers browsing through my recipe books. I have a huge library of cook books and looking forward to writing my own one day.